profile
The Garments,from those of the pageboy to theMaitre'd, are all distinct in ther own right, yet yield a uiformity through smooth lines and sleek tailoring that project classic Peninsula style
Thanks to the work of Satoshi Tanaka, the staff of the Peninsula Tokyo greet their public looking sleek anddistinctive. Sheena Liang charts the fashion designer's rise to prominece and discovers what went into creating a collection. numbering over 20 designs, for Tokyo's newest hotel.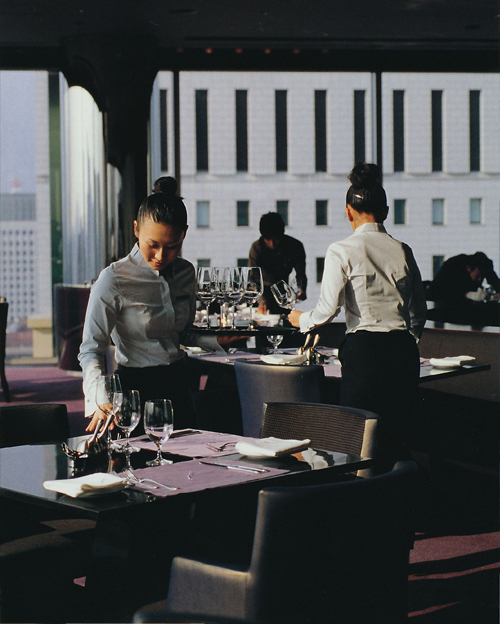 It's unlikely that you'll ever find Satoshi Tanaka at Paris or London Fashion Weeks, Glitzy showcase where both established and up-and-coming designers roll out their latest collections or take a slingshot at fashion superstardome. That's just not his style, as the bright lights and the lure of fame and fortune are not of particular appeal to him. A fashion maverick amongst conformists, this desginer would rather run the gauntlet of designing a set of uniforms for The Peninsula Tokyo. And make no mistake, that particular challenge was not as simple as it sounds.
Unlike producing high fashion, which has the shelf life of one fickle season, the demands of creating uniforms are infinitely more rigorous. On apurely superficical level, the outfit needs to be commanding in appcarance, yet there is much more to it than just creating a look. Distinctive, Peninsula-worthy, classical yet understated, with adesign lifespan of afew decades, ar just a few of the basic asthetic requirements. And for those actually donning theuniform, it's evident that functionalityprecedes all else. A random sampling of common complaints would includes, restrictive sleeves riding up, insufficient pockets, and suffocating or rasping fabrics
Faced with a tall order and a challenging design brief, Tanaka Tackled the challenge head on. Confident that his vision was in line with what The Peninsula Tokyo was looking for, the designer relates how he implored General manager Malcom Thompson at the beginning of the process to "throw away all preconcentions about the uniform, its material and its design."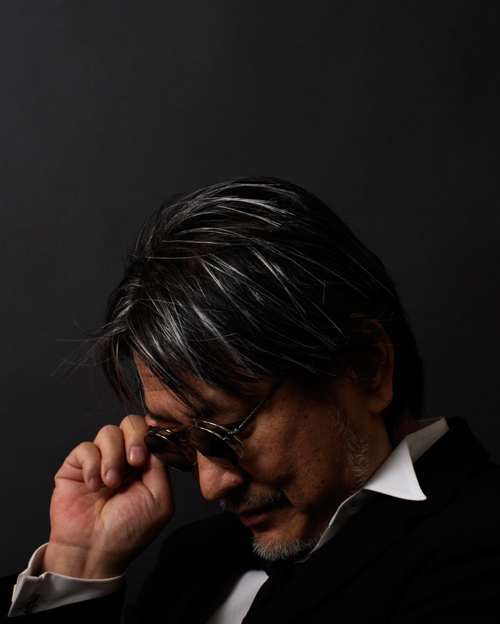 Listening to Tanaka speak with such passion and self-assuredness about his craft, it's hard to imagin him as being the son of a soba maker.
Learning bakc in his chair, the designer runs his hand thorough his salt and pepper hair as he relates how it has been his life's desire to be an artist. And judging from his outfit, his flair forfashion is evident. Semi-deconstructed charcoal hued jeans complete with patches and fraying strands is paired with a white shirt under a well tailored black jacket. With a matching the draped around his open collar, what is carefully orchestrated,disheveled, urban look is completed with a pair of round rimmed glasses, with detachable shaded lenses flipped up. "I had no intentions of maiking soba, so I became a fashion designer!" In hindsight however, he does acknowledge that his father was an artist of sorts and let the accompanying lifestyle.
Tanaka's ascent up the fashion ladder also speaks volumes about his character. Fresh out of fashion school, he was determined to lean from the best that Japanese fashion world had to offer. Whether it as a case of youth and naivety or one where fortune favours the bold that drove this gutsy act, Tanaka Picked up the phone and dialed the great patriarch of the Jpanaese fashion-Yohji Yamamoto. shooting for aspot on the great Japanese fashion icon's 100-strong design team, he landed a role in sales and product development. Striving for a position with a stronger creative focus and astep up the career ladder, he refused to give up his dream and continued to pursue Yamamoto. Impressed by his sheer audacity and willful determination, the calebrated designer pulled put a fashion publication and challenged a 19 year-old Tanaka to replicate an putfit from a photograph in the space of a week.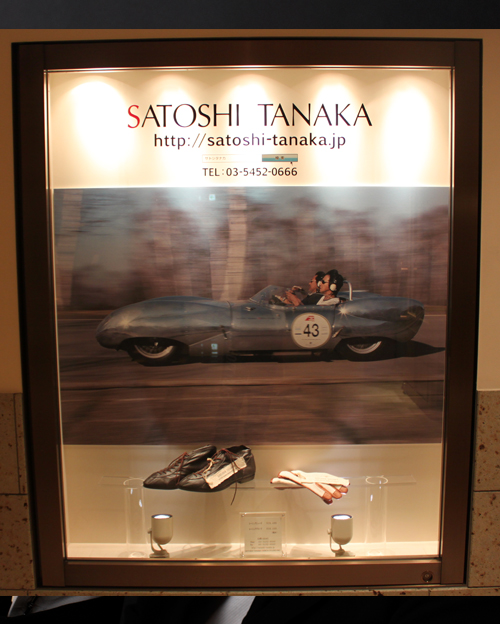 Ironically Tanaka had bought that particular out fit the previous week from a sample sake, which allowed him to create avirtual carbon copy.
subsequently hired, Tanaka csame into his own as a designer working on the"Y's for Men" and "Yohji Yamamoto Pour Homme"lines. Fscinatingly enough though, when he came clean about the truth a few years down the road, it was greeted by mirth by Yamamoto, who admitted that the test was one of character and not of skill, ergo his performance in creating the replica, was irrelevant in the face of his wolehearted deication to the task.
Eight years later,having paid his dues to the industry, Tanaka rode the winds of change and took on the vast workd of fashion as an independent designer. World apart from the commissioned Peninsula Tokyo unifrom, Tanaka's own collections are a clear refection of his character. Unpretentious, sharp and well-tailored, they channel a certain kind of streeet style. Zips, leather, and fashion forward cuts dominate his current collection, but what is unmistakable is a certain quirkiness that endears him to fashionistas, and marks him as a designer with what it takes to make it to the top.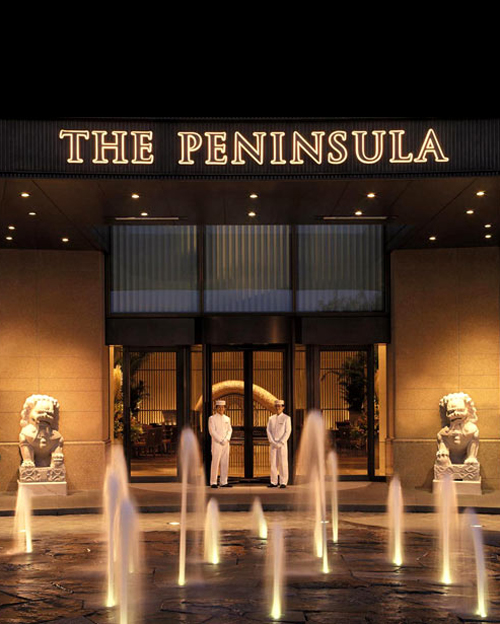 As I compliment his work, he is modest, saying, "I'm no genius," and explains the rationale of his success in the Peninsula uniform that took him the better part of a year to complete whilst simultaneously working on his own collection. "This is not a collection for Tanaka-san, this is a collection. "This is not a colletion for Tanaka-san, this is a collection for the Peninsula Tokyo. "Pulling out a Tnaka-san, this is a collection for The Peninsula Tokyo." Pulling out a stack of sketches, the designer lovingly flips through them as he enthuses about the 20-odd desgins that the staff are now clad in. The garments, from those of the pageboy to the Maitre'd, are all distint in their own right, yet yield a uniformity through smooth lines and sleek tailoring that project classic Peninsula style.
In the fckle realm of fashion shere designers often develop reputations for being one-trick ponies, it's refreshing to meet a designer who displays the type of scope that embraces true style regardless of the setting, be it for Jpana's trendist boutiques or for The Peninsula Tokyo. And that, in our books, is the mark of atruly talented designer who is destined to go far.
published by "THE PENINSULA"